Hello, everyone! Welcome to the second half of the spring term; we're officially half way through the school year! What an exciting time we have coming up in year four!
I will upload some pictures from the coal mining trip soon; my ipad had a glitch last week, so I haven't been able to upload them yet. The children had a great time and overcame lots of fears going underground for the tour. I was very proud of them all.
During the first week of the term on Wednesday, we will be taking part in the Brigshaw skipping festival. Due to the clash in schedule, there will be no swimming on that day.
This half term's theme is "Italy".
English: Creative writing and holiday brochure
In Maths, these are the objectives we will be focusing on fractions, particularly these objectives:
-recognise and show, using diagrams, families of common equivalent fractions
-solve problems involving increasingly harder fractions to calculate quantities, and fractions to divide quantities, including non-unit fractions where the answer is a
whole number
-add and subtract fractions with the same denominator
-recognise and write decimal equivalents of any number of tenths or hundredths
-recognise and write decimal equivalents to one quarter, one half and three quarters
-round decimals with one decimal place to the nearest whole number
-compare numbers with the same number of decimal places up to two decimal places
-solve simple measure and money problems involving fractions and decimals to two decimal places
We look forward to seeing the half term homework regarding designing a flower bed for Leeds in bloom!
-----------------------------------------------------------------------------------------------------------------------------------------------------------------
This week we have been immersing ourselves in to the world of Oliver Twist, and today the children have been doing some role play of different scenes. They really enjoyed it, and it will help them with their writing once we start our fiction unit next week!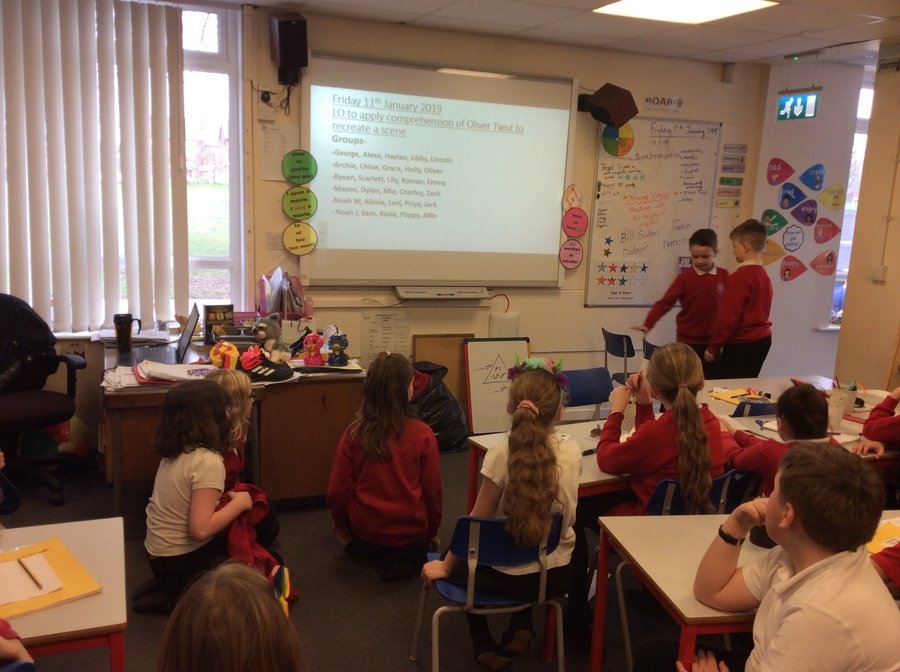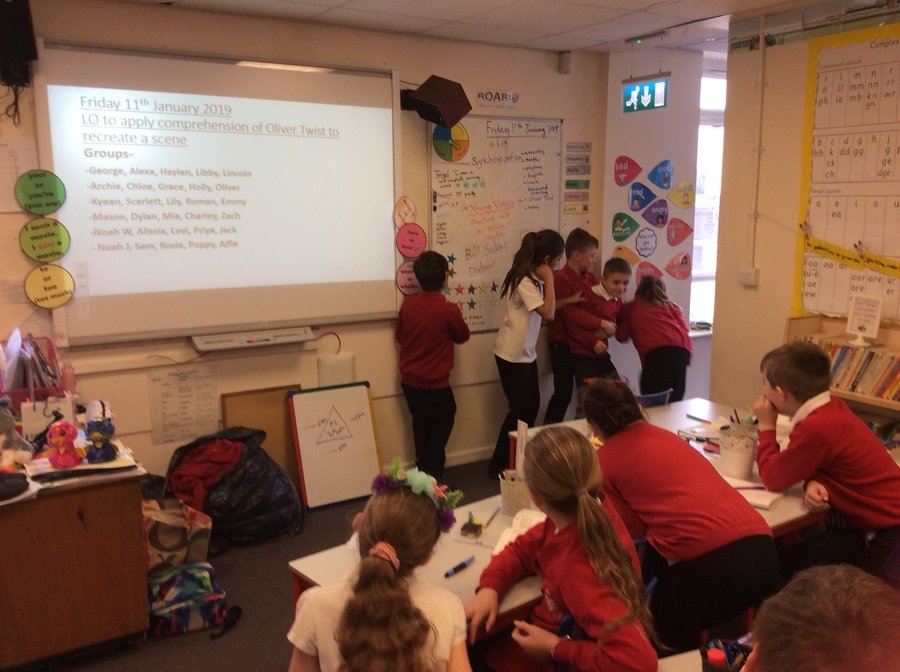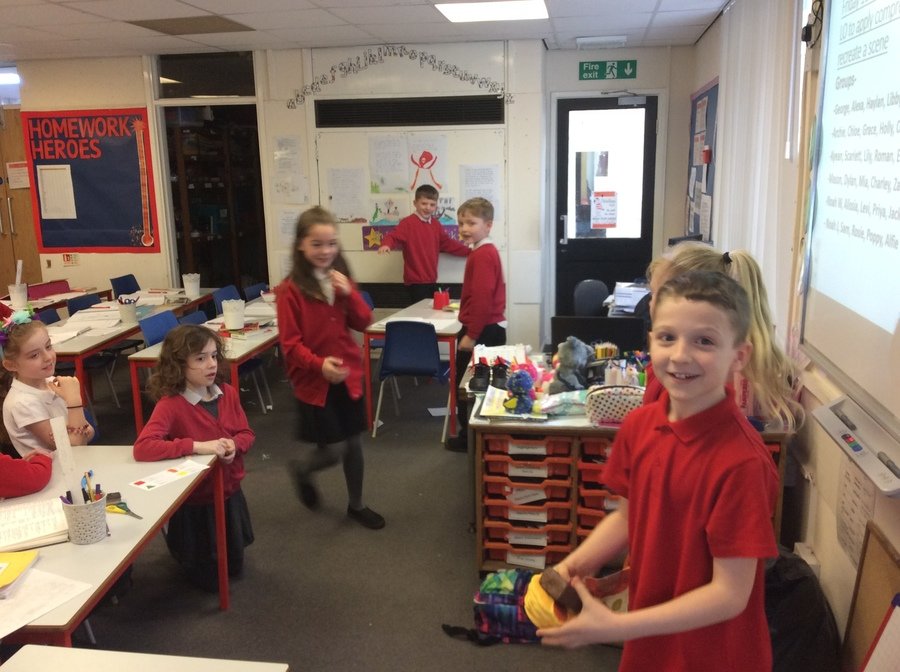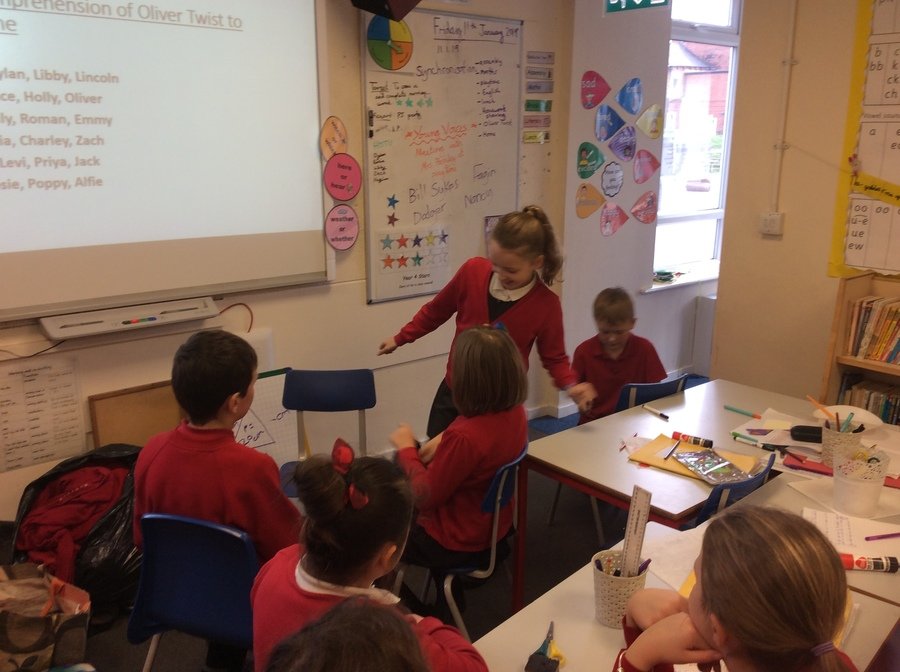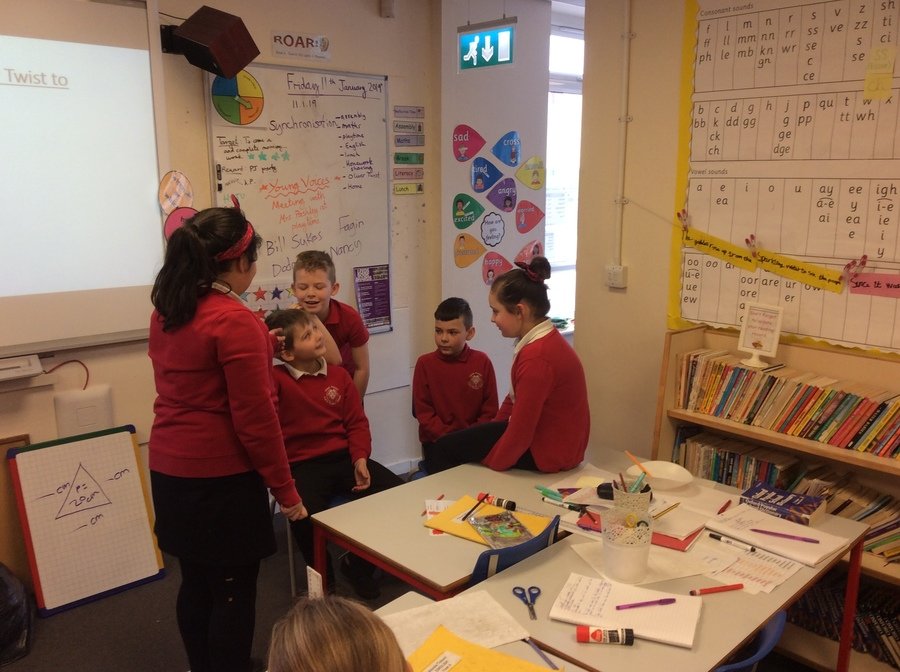 Happy new year! I hope that everyone had a great break over the holidays. We're at the start of our Spring term now, and it's going to be a great one! Our topic this half term is all about coal mining, so watch this space for more exciting news about that in the upcoming weeks.
This week's spelling homework (wb 7.1.19) activity is to learn the rules for adding the suffixes "ed" and "ing" on to the end of words. The spelling test next week will be based on giving the children a word and they have to add the suffix to it spelled correctly, so there will be no set words for the test. You can help your child by practising adding these suffixes. The rules are:
If the word has a 'soft vowel' when adding 'ing' and 'ed', you double the end consonant -
Examples: HOP = HOPPED, HOPPING
SKIP = SKIPPED, SKIPPING
SLAM = SLAMMED, SLAMMING
If the word has a 'hard vowel' when adding 'ing' and 'ed', you do not double the end consonant (and if the word ends in an 'e' you drop the 'e') -
Examples: HOPE = HOPED, HOPING
BLAME = BLAMED, BLAMING
The maths homework is a sheet based on perimeter. Also, please practise times tables as much as you can at home. By the end of this academic year, children should know all times tables up to 12X12!
PE notice - Swimming - Our first swimming lesson of the year will take place on 23.1.19. Normal PE is now on a Monday morning. Please remind your child to bring their kit to school with them at the beginning of the week!
Autumn 2
General weekly time table:
Mon: Weekly homework due in first thing; library in AM and PE in AM
Tues: New homework handed out to be handed in the following Mon
Weds: Swimming day
Thurs: Weekly spelling test
Fri: Celebration assembly in AM, show and tell in PM
Areas of learning:
English: fiction - writing flashback stories based on Oliver Twist; non-fiction - diaries of a coal miner
Maths: Multiplication/Division/Perimeter and Area
Topic: Coal Mining
PE: Skipping competition and swimming
DT: pullies and levers