The Easter Story
Here are the 2 Easter animations that were mentioned on Class Dojo that I thought you would enjoy seeing! Well done - you put a lot of effort into these!
Here is the chilli challenge!
Year 6 are Times Tables Rockstars!
Just in case you have not heard (although I am sure you will have!) Year 6 have won a pizza party with their amazing efforts on Times Tables Rockstars. The competition was tough, but we have been so impressed by the class' gritty determination and excellent attitude. This was a real team effort - and great fun! Every time we were overtaken, the children renewed their efforts. Let's make sure we keep going on now to make a lasting difference to our Maths. Well done - and now we will be choosing toppings!
Cheese Tasting!
Year 6 had a delightful afternoon cheese-tasting, mice that we are! This was reward for excellent effort with our Growth mindset letters.
Most people tried most cheeses and the favourites seemed to be brie and applewood. We also discovered that stilton goes very nicely with pear! Here a few examples of the children's views.
National Poetry Day
Mrs Wilson was very impressed by Year 6 on Poetry Day. The class read, analysed and performed Tell the Truth, but Tell it Slant by Emily Dickinson. A tricky poem, they worked hard to unravel the images and concepts. In their artwork, the class again demonstrated super understanding of the poem. There was definitely a poetry buzz in the air on Thursday!
Walk to the River Aire
Year 6 enjoyed a walk to the River Aire as part of our topic! We were joined by Tom from the Environment Agency who talked to us about the ox-bow lake and how the river is managed and maintained. It was so interesting to find out more about our local area and the children could compare the Aire to the Swale which we encountered on residential. Luck was on our side! We had beautiful sunshine and returned to school before the heavens opened. We were even lucky enough to see a heron!
Marrick 2019
Well, we are all back safe and sound after a fantastic residential. Amazing children, amazing days; the class really made the most of the experiences offered to them and should be very proud of their achievements over the week. Watch this space for photos - I will put some on as soon as I can!
YEAR 6 2019!
It was lovely to welcome Year 6 today! They behaved impeccably and, even when a little (understandably!) tired, put 100% into the day. It was a pleasure to teach them and I am certainly looking forward to the year. We are ready to take on more challenges and buckle down to some exciting learning.
Marrick is fast approaching and we are all looking forward to going. The meeting this Wednesday will be a good opportunity for you to ask any final questions. Today, the children were also told about the new Year 6 hoodies, so look out for the letter I gave out. Please do get in touch if you have any queries.
Year 6
Lotherton Hall
What a fantastic trip we had to Lotherton Hall! The children looked amazing and really engaged in the role play. We learnt about Morse code, First Aid and investigated artefacts. Their learning has been evidenced in well-written evacuee letters and stories.
Natural Disasters
Year 6 have had great fun learning about volcanoes and earthquakes this half term, which has led to some fantastic writing. Here are some pictures of the messy, but educational, lessons!
Viking story telling session
Over the last few days, Year 6 have been writing mini myths! This has tied in well with their topic learning. We spent a lovely morning listening to some of their stories, some based on how Odin lost his eye. They snuggled down with blankets and hot chocolate in candlelight to imagine what a Viking evening might have been like. I have to say, the children listened to each other beautifully, showing what engaging writers they are and what a well-behaved bunch they are!
Haka!
As you have probably heard, Year 6 have been creating a Haka for Castleford Tigers! We are hoping to show it to them, with the kind help of Mr Crowther! The children have worked really hard and shown super team work. Here is the result - but beware! They are scary!!!!
Red Cross Workshop
This week the Red Cross led a workshop for Year 6 so that we could learn about migration, asylum seekers and refugees. The activities helped us to clarify the terms used and also made us think more deeply about what it is like to leave one's homeland. A very thought-provoking session!
Black History Month
Year 6 have created some inspirational and creative learning logs in the theme of Black History Month. Reading them was a joy and I was really impressed by the range of people they explored. Well done children for a fantastic effort! Here are just a few;
National Poetry Day
To celebrate Poetry Day, Year 6 learnt and performed 'Walking with my iguana'. this task was approached with great enthusiasm and we had a lovely day, with everyone getting involved! They used their amazing talents to create a fantastic performance for Year 2. We even managed to incorporate some drums! After this, the children created new verses with Year 2. We were all really impressed by how they guided and supported the younger children to do this. Well done, Year 6, for introducing performance poetry to a different class.


Headingley Water Treatment Works
Year 6 enjoyed a really interesting and informative trip to the water treatment works! Having seen the River Swale in its natural form, it was fascinating to learn about how water finally reaches our taps! They will be able to provide some useful water-saving tips too! Thank you again to our parent helpers for giving up their valuable time!





Residential 2018
And we're back! Year 6 have had a fantastic week at Marrick! Each and every child took on many challenges with enthusiasm and determination. I am truly impressed by their courage, perseverance and willingness to try new things. We are all very proud of you and your achievements, Year 6! It was a real pleasure to spend the week with the class; their lovely manners and positive attitudes were also noted by the instructors. I think most of them were quite amazed by what they could do! So, here are a few photos to give you a flavour of the week and I hope to share more on Wednesday! If any do ask, please explain why it is not practical for us to have a pet sheep at school!
Year 6 2017
Wakefield Annual Leavers' Service
Year 6 enjoyed a memorable afternoon at the Annual Leavers' Service. Their contributions to the service were confident and valuable; the children were a real credit to us all. Focusing on 'Yesterday, Today and Tomorrow, we joined in with prayer, discussion and hymns. You can see the 2 lovely candles we created for the service below and there is a short video of the reading we were asked to do. Well done Year 6!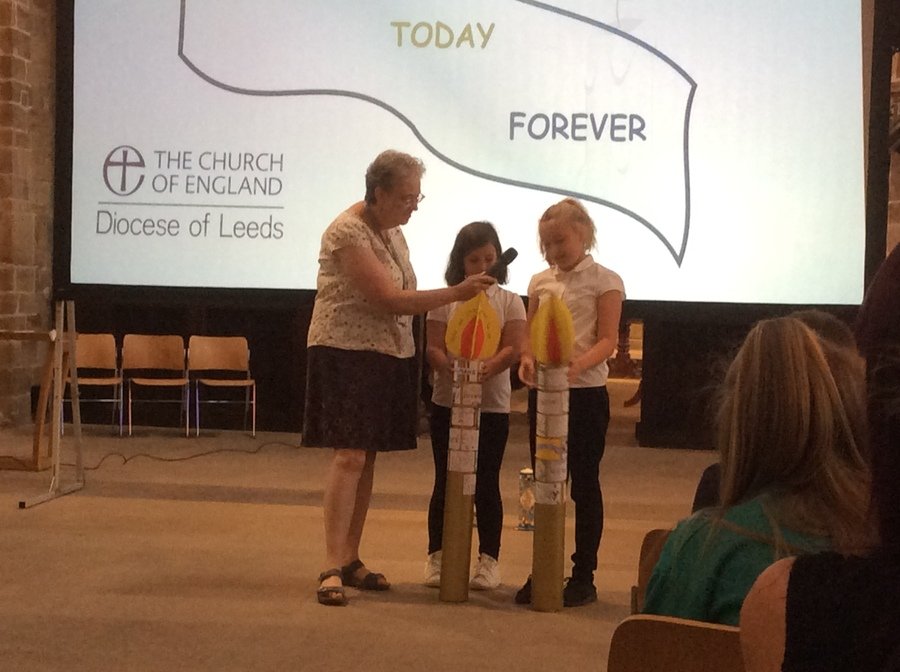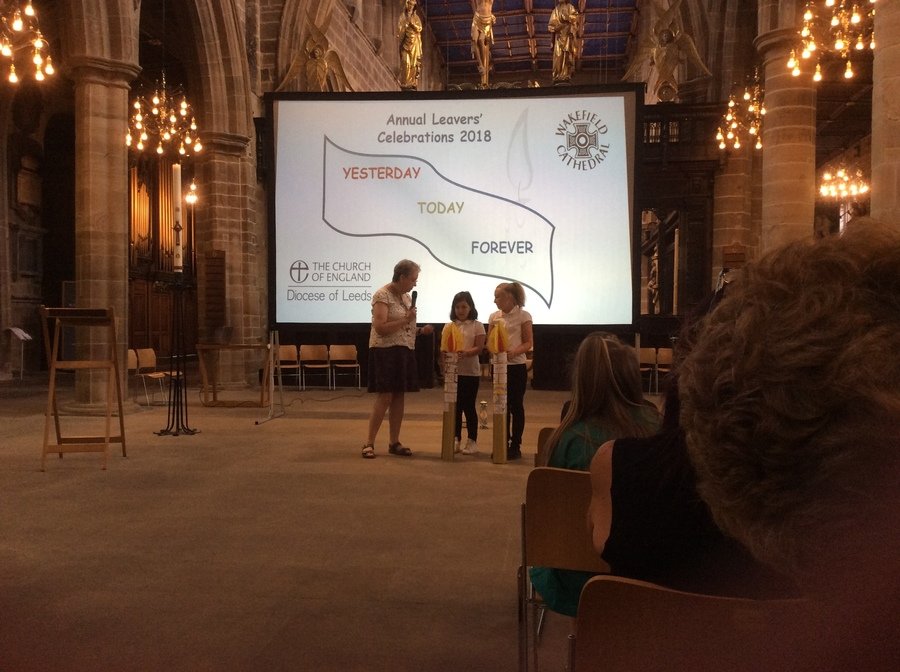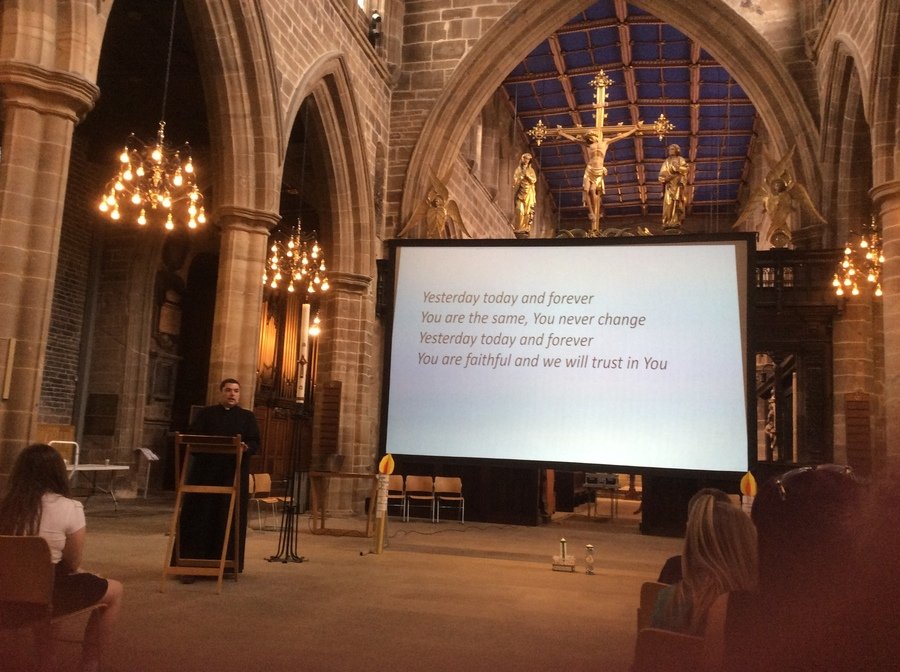 The Next Big Step!
Year 6 worked so hard to a tight deadline for their end of year production. It was a huge success and showed off their talents perfectly! Well done Year 6 and we hope that you seek opportunities at Brigshaw to show off your excellent performance skills. Staff, pupils, parents and carers thoroughly enjoyed the show!
African Voices Day
This morning, we had a most enlightening workshop about the continent of Africa and the country Malawi in particular. Through a series of fun activities, we learnt more about Africa and challenged our current perceptions to think about diversity. The feedback from the children was extremely positive and Geoff, who led the workshop, was impressed by their engagement and depth of thinking. Don't be surprised if the children start asking for old bottle tops - Geoff taught us a super new game!
Earthquake proof buildings!
We have been testing our knowledge of earthquakes by researching and constructing earthquake proof buildings! Testing them on a jelly shake table was great fun and most of the structures managed to stay upright for 10 seconds!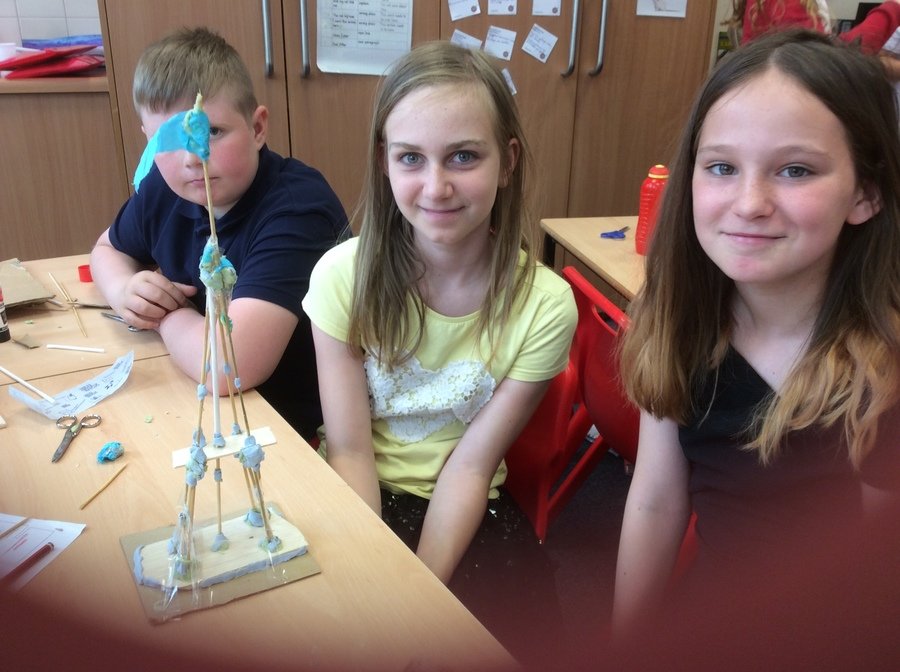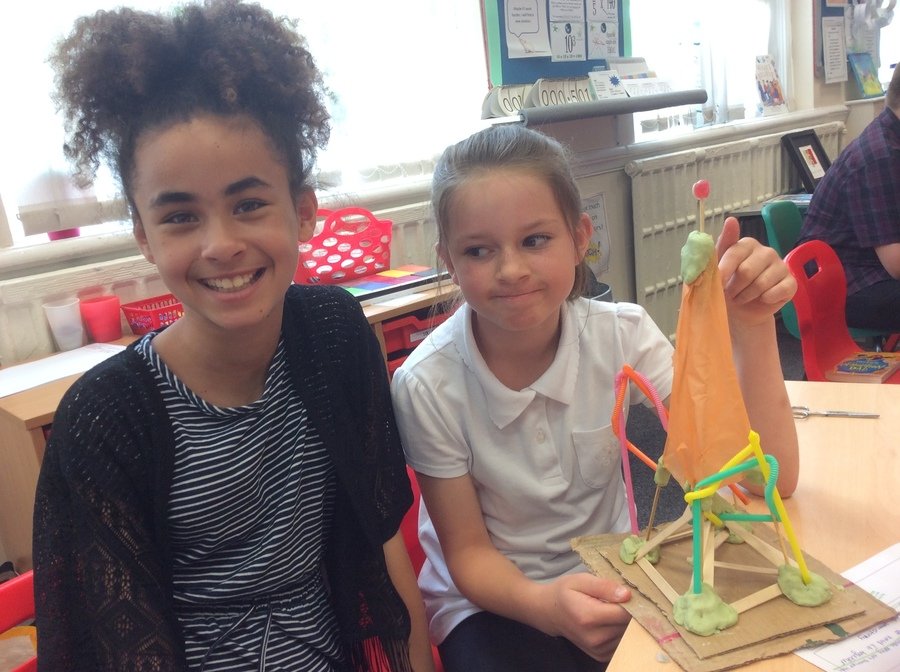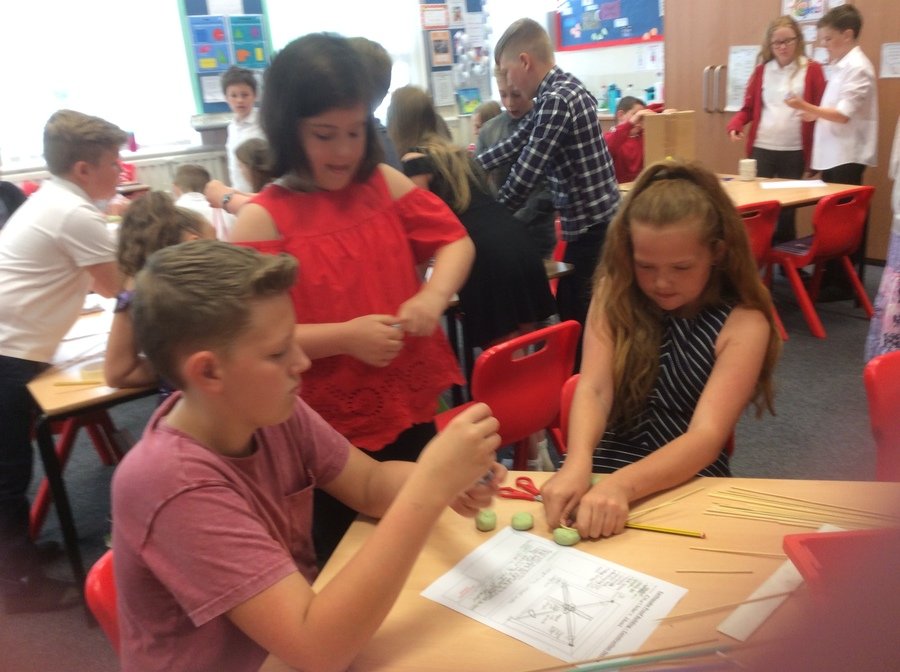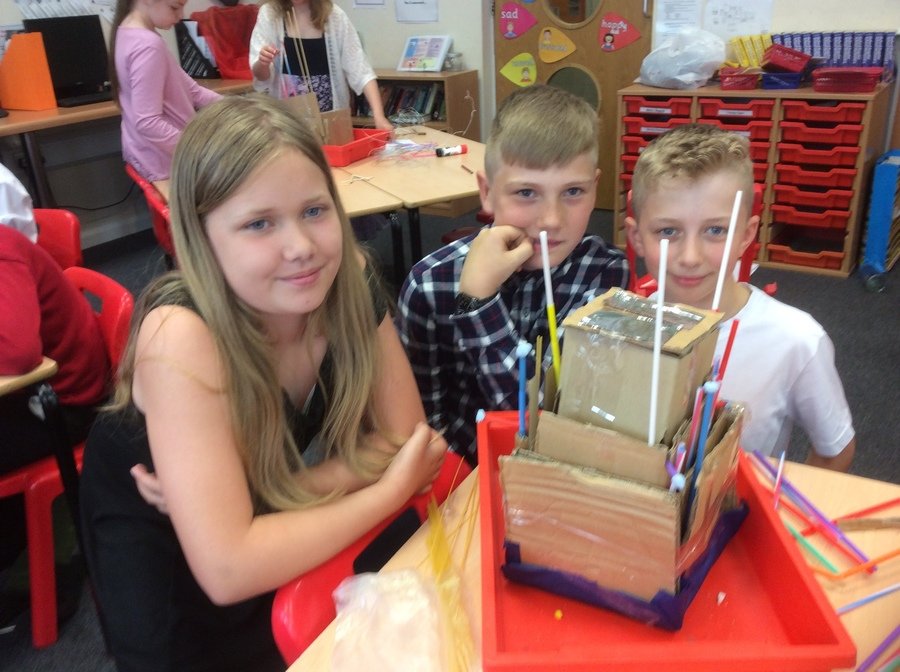 African Storytelling Workshop
This was a welcome break after revision! Year 6 really enjoyed a lively workshop with Karim including singing and dancing. Following the workshop, they have written some wonderful stories about the antics of Hyena and Rabbit, creating their own plots.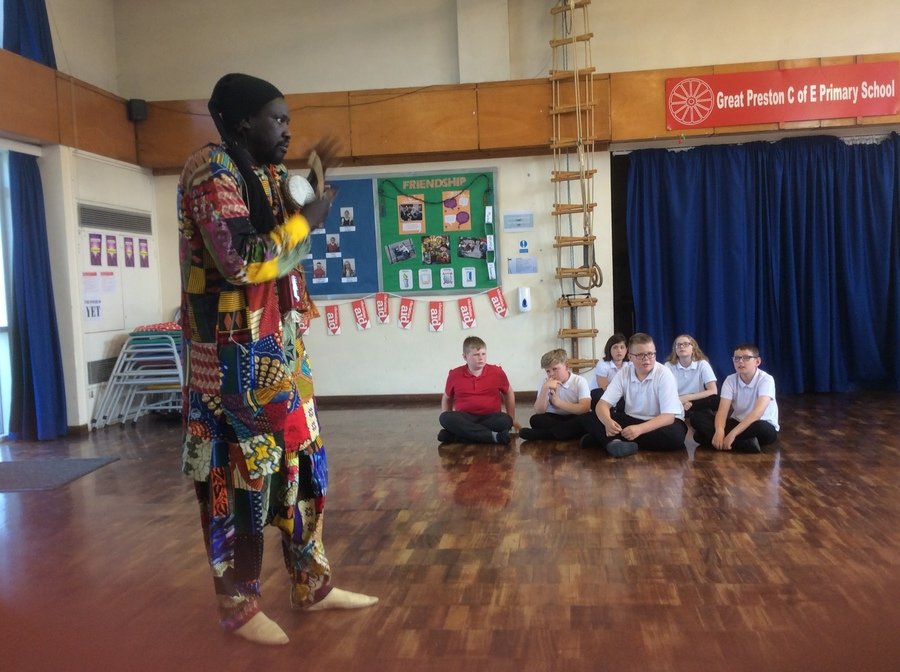 Fish and Chips
After working incredibly hard towards their SATs., Year 6 enjoyed a real treat - fish and chips! We walked down to Woodend Fisheries and had a lovely meal in the sunshine. Very much deserved and a great incentive!




SATs information for parents
The children have come back rested and are now ready to start preparing for SATs. The government has issued a document for parents outlining key information. To access this please follow the link :
https://assets.publishing.service.gov.uk/government/uploads/system/uploads/attachment_data/file/694765/Information_for_parents_-_2018_national_curriculum_tests_at_the_end_of_key_stages_1_and_2.pdf
To add a modern focus to our World War Two studies, we also invited Abbie from the Red Cross to talk to us about modern conflict. We learnt some interesting facts and considered issues faced by people across the world.

Here are some photos from our school trip! Amazing evacuee costumes! Well done children!






Unfortunately we have been hit by some nasty bugs this week! So, here is some work that we have been doing this week that you can catch up with over half term! Just use lined paper and bring it in on Monday.
If you have been at school, you may wish to try your hand at a different genre!
We watched the clip about World War 2 again! Here is the link:
https://www.literacyshed.com/beyondthelines.html
Now, you need to complete a piece of writing inspired by this clip. You need to show you understand the success criteria for the type of writing you choose. We had great fun in class making our own writing choices and using our imagination! Some ideas to get you going -
try writing the letter in the clip!
you could write a diary entry for the grandpa as a young soldier
a story from the children's point of view
a flashback!
If you would like to do more, we also write a poem about the Blitz using Boomtastics and personification. Think about what you might see, hear, feel.....
And finally - homework pages!
Spelling – Pg 43 Punctuation – Pg 32-33
Grammar – Pg 8 Number, Ratio and Algebra – Pg 35-36
Have a lovely half term and see you soon!
Ms Taylor
Recommended Websites:
www.theschoolrun.com/ks2/key-stage-2-sats